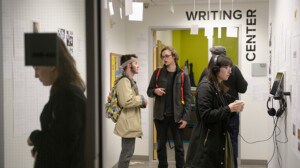 The Writing Center provides free, personalized writing support through individualized consultations, and is available to Alums! 
Perhaps you are working on a grant proposal or residency application, need help polishing a cover letter, resume, or preparing a speech –  The Writing Center welcomes you!
Visit face-to-face by scheduling an appointment or submit online using their Cornish email. The Writing Center staff respectfully requests these simple courtesies: 
Be thoughtful about the frequency with which they seek feedback, especially during mid-term and finals week.
Be aware that during busy times of the semester we may need to prioritize currently enrolled students. In practice, this may mean it takes us a few days to get back to you with video feedback, rather than 24 hours, or we need to find an alternative time to meet with you. We'll let you know if that's the case.
Click their page for more information and to schedule your appointment.