Thank you to recent Music Alumni Ebony Miranda ('18) co-founder of Black Lives Matter Seattle-King County, for this personal and insightful interview!
Photo credit: Alex Britt (AR '18)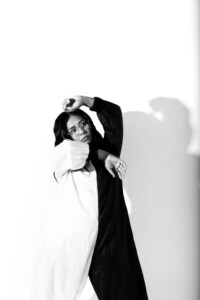 Describe growing up and your childhood.
I'm originally from Southern California. I started playing cello when I was nine years old and when I was 12 I auditioned for a performing arts school in my county. I got in surprisingly enough, and from there my interest and knowledge in music really took off. I had always enjoyed playing cello ever since I picked it up, looking back on my diary I kept as a kid, a high point that sticks out is seeing how excited I would be to practice and play. There are a lot of other elements of my childhood that I could probably add in here, but I'll keep it simple.
Tell us about why you decided to pursue art and why Cornish? 
It took me a while to realize that I wanted to study music in college and pursue it as a (partial) career. I was about 16 or 17 when it all clicked for me. I think part of this delay was due to the discouragement I had early on my music education. It was hard for me to afford lessons as a kid, and for about 5-6 years they were few and far between, and so I ended up teaching myself a good amount of my orchestral music for middle school and all of high school. I attempted to teach myself some solo repertoire as well,  in fact, one of my audition pieces for Cornish was one I taught myself. But anyone who is trying to pursue performing or fine arts professionally knows that early, consistent education is absolutely crucial to our technique and overall development. This hindered me in many ways. I was told numerous times that I wouldn't be able to achieve a degree in music because I wasn't good enough to get in anywhere, but I knew I would regret it if I didn't at least try. I took two years after high school to attend community college, and to find a job that paid well enough for me to finally afford lessons again. Obviously I got in, and now I do have a music degree with a concentration in cello performance. I'm also the first person in my immediate family to graduate from college. I chose Cornish for a few reasons; one being that it was still on the West Coast and would make it easy for me to visit family, two being that I really enjoyed the student to professor ratio, it reminded me of the small classes sizes I had in high school, and three because of the cello instructor, Paige Stockley. She was dedicated to helping me unlearn some of my bad habits from years of self teaching, and gave me so much knowledge in real, classical technique.
What was your takeaway from Cornish?
This is such a complicated question, as I feel very polarized in this. I will start with the positive. I appreciate Cornish, and specifically the music department, for it's encouragement of experimentation. Looking back, what I miss most is the ability to try things out loud without having to worry about being harshly criticized or judged (at least not to my face). My first year at Cornish I created a feminist performance art piece with a friend to call out the sexism in the department, I was in lingerie in front of my peers and professors and it felt powerful, as I had never done something like that before. The next year I helped curate a variety show and did an interpretive dance with a cello and smashed it on stage at the end. I felt very empowered in my creative freedom, and I was challenged consistently with new material. Most importantly, it was my introduction to free improvisation, and collaborating with non-musicians, primarily dancers. Though I studied classical music in my private lessons, all of the music I create as a solo artist is almost exclusively free improvisation. Cornish pushed me to be a more diverse player than I could have imagined, and I am grateful for that. But not everything was great. I think my biggest takeaway from my experience at Cornish is really seeing how the music industry and music academia still has many flaws when it comes to topics of social justice. I won't get into detail about the treatment I experienced on a personal level, as it could be a whole essay really. But as I mentioned earlier, my piece about sexism in the department did not stop there, in fact, it was a very obvious and consistent problem that has taken a lot of work to dismantle. The other most glaring issue is racism. A big issue I advocated for at my time in Cornish through the POC Union (which I helped create) was having a more diverse curriculum across all departments. I can recall one class that focused solely on Black music, and it was an elective that was available for one semester. And overall, it was difficult finding classes that catered to the history of marginalized groups within performing and fine arts. Recently, the music department has made a huge commitment to diversifying it's material to be more inclusive of women and nonbinary composers. This is great, but I believe it has to go deeper than that. The culture of institutions has to change with the material.
Were/Are your parents artists?
Nope! I'm pretty much the only artist in my immediate family.
How did you become part of BLM? Can art make a difference in highlighting BLM movement and implementing real lasting change? 
I am a co-founder of Black Lives Matter Seattle-King County and am serving as the current board chair. I think through all social justice movements, particularly Black movements, music and art has always made a difference and been a source of reflection, documentation, and inspiration. There is always a debate of  "should art and politics mix" but I find it to be a privilege if you can very clearly separate the two. I think what people are missing is that it doesn't always have to be explicit. For my solo project, Undesirable Body, most of my music does not contain words, unless I've decided to use vocal samples, it is simply just me playing my cello. But a lot of my sets or pieces are dedicated to those whose lives have been lost to police brutality, whether I say it out loud or not. My music has helped me process a lot of those complicated feelings that I can't always get out in other forms of demonstration. But other times I've been more explicit; I've sampled chants and sound clips from BLM marches, interviews from mothers of those lost, and passages from books that I love. There are many ways to do it. An artist that comes to mind is Paul Rucker (another cellist, funnily enough), he has created some amazing multimedia projects that incorporate social justice topics.
Tell us your vision for the future of our arts world, especially in this pandemic, societal, and financial crisis.
Another big question, I'll try not to write a book! What first comes to mind, is that this pandemic has made me realize how much our world does not appreciate artists and our work. We are consistently underpaid and then shamed for asking for more; a lot of us, especially younger artists starting out, are afraid to ask for higher wages or higher commissions out of fear of having the gig or the project dropped altogether. Grant opportunities cannot be available for everyone, and can be very competitive as well. I do not do freelance work currently for my main source of income, but I've been reflecting a lot on the gigs I've taken in the past, and how much I've settled just to make a quick buck. The industry has to change, and there need to be more resources at all levels, community and within the government, to support us. As for the future of performance… I miss shows more than ever, though I think about that video of the people who played for a room full of plants and that doesn't sound too bad either! I think what I hope to come out of this, through pandemic and social uprising, is similar to my sentiments in academia. This is a great time to reflect on how we can make the arts more accessible and equitable for everyone. That means education, live performance, all of it. So many of our "traditions" are outdated and simply aren't relevant anymore, and I believe we can find a balance moving forward. Adjusting to opening up performances again could be a great time to strategize on how to transform the audience experience, especially for classical music.
Any additional comments and thoughts from you?
None come to mind! Thank you for asking me these questions.